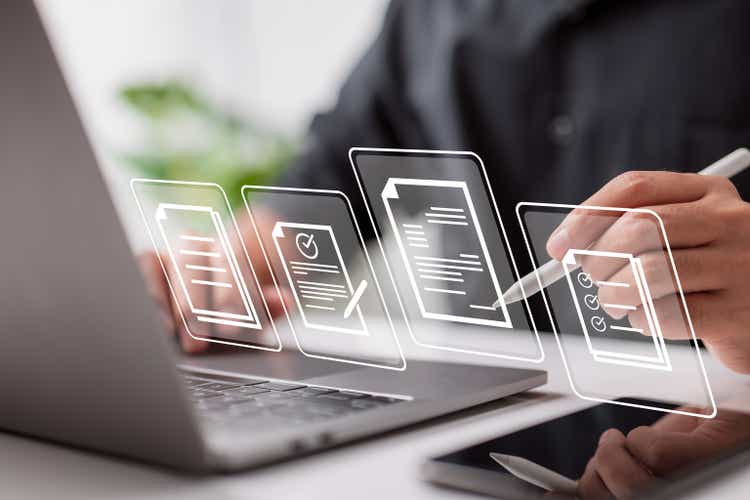 Investment thesis
I believe that Progress Software Corporation (NASDAQ:PRGS) is fairly valued right now. While I think it lacks the dominance in the industry, it does have a decent product portfolio, consistent growth rates and a reasonable P/E ratio in an attractive industry.
In this article, I will describe:
• An introduction of Progress Software
• Financial performance
• Factors influencing future performance
• Valuation and other statistics
• Final take
Introducing Progress Software
Progress Software Corporation provides software products to develop, deploy and manage business applications. A business application is a software solution or a collection of applications that perform business functions. They are utilized to boost and track productivity across the firm.
Its product portfolio has grown over time with the help of acquisitions. It now offers multiple products in DevOps, Application Development, Data Connectivity, Digital Experience, Application Experience Management.
Financial performance
Growth rates (Year-over-year):
| | | | | |
| --- | --- | --- | --- | --- |
| Index | 2019 | 2020 | 2021 | Last 4 quarters |
| Revenue | 9% | 6% | 20% | 22% |
| Gross Profit | 8% | 12% | 19% | 21% |
| Net Income | -46% | 201% | -1% | 28% |
Source: Seeking Alpha
Margins (% of revenue):
| | | | | |
| --- | --- | --- | --- | --- |
| Index | 2019 | 2020 | 2021 | Last 4 Quarters |
| Gross Profit | 81% | 85% | 85% | 84% |
| Selling, General & Admin | 37% | 34% | 35% | 35% |
| Research & Development | 21% | 20% | 19% | 18% |
| Net Income | 6% | 18% | 14% | 16% |
| Free Cash Flow Margin | 31% | 31% | 32% | 36% |
Source: Seeking Alpha
Its revenue growth rates were nothing spectacular in 2019 and 2020, a bit above the average growth of most American companies. In 2021 and most recently, the company saw a spike in its revenue growth. According to the latest annual report, this is due to the acquisition of Chef, which closed during the fourth quarter of fiscal year 2020, increased demand for its OpenEdge and Ipswitch product offerings, and the acquisition of Kemp, which contributed $5.9 million in revenue during the fourth quarter of fiscal year 2021. The acquisition of Chef closed on 1 November, while the Fiscal Year 2020 ended at the end of November. Thus, most additional revenue of this acquisition is generated in 2021 and not in 2020. This is important to know, as it gives us a better view on its organic revenue growth rate.
The revenue was 531 and 442 million USD in 2021 and 2020 respectively, taking the additional acquisitions into account.
The company stated that, if the acquisition of Chef would have had happened before 2020, hypothetically, the company would have made 497 million USD in 2020. This means the company would have generated 55 million USD in the 11 months more, indicating roughly 5 million USD per month. If one would take this into 2021, that would mean the acquisition to bring in an extra 5 * 12 = 60 million USD. Thus, I argue that to review its organic growth rate, we will have to subtract 60 million USD from the 2021 revenue and 5 million from the 2020 revenue. Furthermore, we should subtract the 5.9 million USD related to the Kemp acquisition from 2021 as well. This results in an organic change of revenue from 437.15 in 2020 to 465.1 in 2021, or 6.4% in percentage. This is pretty much in line with the growth rate seen in 2020 compared to 2019.
Looking at the margins, the profit margin and especially free cash flow margin look really robust and have increased nicely. Its acquisitions create potential for synergies, which might be the cause for its increase in profit margin.
Factors influencing future performance
Industry
I believe that companies' increased use of a customer-centric strategy, competitive advantages over rival software, and acceptance of cloud and mobile apps have and will continue to fuel the worldwide enterprise application market's expansion. As these applications may tend to become more complex, due to increasing requirements, all three aspects of development, deployment and management of business applications are essential. Thus, I believe that the market, which Progress Software to operate in, to be growing at robust levels. Furthermore, due to the broad range of application usability and continuing management needed, I believe the market to be huge. Allied Market Research estimates the enterprise application market to be worth 527.40 billion USD by 2030.
Products review
As the company owns many different software products, I will pick some of its most known products.
OpenEdge was one of its revenue drivers in 2021, it's a development suite for creating dynamic multi-language applications for safe deployment across any platform. Users rate OpenEdge an average of 4.2/5 on Gartner.
Frequently mentioned likes of the product are:
Ease of deployment
Easy to use
Frequently mentioned dislikes of the product are:
Lag in features relative to industry
OpenEdge seems to be a little behind
Low community support
Not easy to find people with OpenEdge skills
Another product is Sitefinity, platform for web content management and consumer analytics. Sitefinity scores a 4.3/5 on Gartner.
Frequently mentioned likes of the product are:
intuitive back-end interface
ease of use
Frequently mentioned dislikes of the product are:
Lack of automation (with image processing, documents, etc.)
Takes too long to customize the site based on current standards.
The lack of professionally developed themes/skins makes creating a new site a burden.
Overall, the products are rated alright and seem to do the job. However, in my opinion, some of the dislikes that are mentioned could indicate a lack of dominance in the industry. As I mentioned, business applications are getting more and more complex and due to the development of technology, users keep expecting more of features offered. While the platforms, according to the reviews, are easy to use and can perform most basic tasks, it does seem to lack advanced (new) features.
Competition
The Gartner comparison page shows relevant alternatives to the product of Progress Software. In this case, OpenEdge, there are many huge and successful companies that compete in the same market. Products are AWS Lambda from Amazon (AMZN), Salesforce Lightning Platform from Salesforce (CRM), Jetty from Eclipse, and the list of products offered by large companies keep on going. These products score 0.2 to 0.4 out of 5 higher than OpenEdge. These products are liked for both its ease of usability and the range of features offered. While the difference in ratings is smaller for Sitefinity, huge companies compete with this product as well.
I am not completely convinced by the competitive strength of Progress Software products. OpenEdge was mentioned as one of their revenue growth drivers but seems to lack certain features and speed which is why it gets rated lower than competitors.
I believe that the gap between their products and competitors has caused the difference in the amount of resources. While Progress Software has a market capitalization of $1.9 billion USD, other competitors such as Salesforce, Microsoft (MSFT), Oracle (ORCL), SAP SE (SAP), Google (GOOG, GOOGL) and Amazon have significantly more resources to allocate. As a result, I think that they are and will be able to better fulfill the (changing) need of users. Furthermore, it doesn't really help that Progress Software owns so many different products in different markets, as that could make it easier to lose focus and less resources allocated per product.
Valuation and other stats
Basic stats:
| | | | | | |
| --- | --- | --- | --- | --- | --- |
| Index | PS Ratio | PE Ratio | Gross Margin | Price to Gross Profit | 3Y Sales Growth |
| Progress Software | 3.27 | 20.42 | 84% | 3.89 | 16% |
Source: Seeking Alpha
Progress Software has a relatively low P/E ratio for a software company. Its sales growth is quite high, although it's heavily boosted by the acquisition strategy. Organically, it would be closer to 7 percent.
Final take
Progress Software has managed over time to build a robust product portfolio and achieve a nice profit margin, with the help of acquisitions. I do believe the company will achieve a reasonable organic growth rate around 6%, as I think that the market is set to grow at a higher rate and products are claimed to be easy to use and manage to perform a lot of essential tasks. I don't think it will dominate the market as its products are claimed to lack some essential (newer) features compared to products offered by bigger companies. I believe that this gap is caused by Progress' focus on many different products and industries while having a smaller overall amount of resources.
Nevertheless, paying a P/E ratio of 20.42 for a company which shows consistent revenue growth in an attractive market, a decent profit margin, and a decent product portfolio seems reasonable to me. I don't think PRGS will create any alpha for your portfolio, but I do think it's a fair valuation right now.